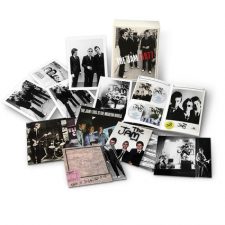 The Jam – 1977
A fantastic 5 disc box set celebrating the Jam's debut year has been announced. It features:
In the City & This is the Modern World studio albums
Complete disc of demos
Live from Nashville 1977 concert + John Peel Sessions
DVD of TV appearances and promo videos
144 page booklet of rare memorabilia and set of postcards
Click here for full details and to order.
"Armed and extremely dangerous The Jam stalk the decrepit grooves. If you don't like them, hard luck they're gonna be around for a long time" – The Musical Express
"Captures that entire teen frustration vibe with the melodic grace and dynamic aplomb of early Kinks and Who" – Record Mirror
Share your memories of this landmark year on our 1977 timeline.